Grupo Los Yoyi/YOYI (1977) LP
$30.00
Groove Dis Exclusive. FUTURE ROOTZ teams up with CANAL SOUNDS to release this holy grail from Cuban bassist JORGE SOLER LEON. Originally released in 1977 on EGREM, it's JORGE's only known solo project fusing traditional Afro-Cuban rhythms with jazz, funk & disco, loaded with amazing horns and...

Late Nite Tuff Guy/TUFF CUT 012 12"
$22.50
Pop smash "RUNNING UP THAT HILL (A DEAL WITH GOD)" by KATE BUSH, featured heavily in the new season of "STRANGER THINGS", gets an edit on the A-side, while LNTG takes on disco belters by CHAKA KHAN and ROY AYERS on the flip! (TUFF CUT)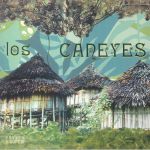 Los Caneyes/NO ESTABAS NO ESTABAS TU 7"
$13.50
Cuban funk master JUAN PABLO TORRES gets two flame-hot Afro-Cuban 1973 cuts reissued by FUTURE ROOTZ. "NO ESTABAS..." and the flip "OYE VEN Y BAILA MI SON" licensed from EGREM, big hole loud 45 for DJs in full color picture sleeve.