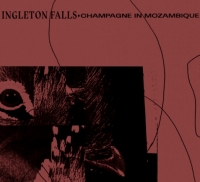 Ingleton Falls/CHAMPAGNE IN...LP
$30.00
ISLE OF JURA's second long player reissue is an album from INGLETON FALLS that touches upon ambient, dub, house and balearic styles & was originally released in 1991 as a limited run of 100 self distributed cassette tapes. Never released on vinyl till now. Cheers to "CHAMPAGNE IN MOZAMBIQUE".

Talib Kweli/DUB KWELI LP
$15.00
MAX TANNONE follows up his MOS DEF remix album with this one from MOS DEF's partner in BLACK STAR, TALIB KWELI. Using reggae dub tracks from PRINCE JAMMY, LEE SCRATCH PERRY. and others as backing this gives TALIB's raps a whole new sound. 10 tracks spanning from 2000 to 2007. Back in stock!