Edit & Dub/#10 DUBPLATE ACTION 12"
$12.00
Groove Dis Exclusive. EDIT & DUB #10 share a private stash of disco boogie & garage jams. DR. SUPERMAN's 1979 rap track "CAN YOU DUB IT" in an instrumental form is a welcome find, along with the super rare & sought after cuts "TIED UP IN LOVE" by IYICJKO and LEE ALFRED's "ROCKIN-POPPIN FULL...

Jacques Renault/LAW OF LOVE 7"
$13.50
Dropping a tasty twosome of disco edits, JACQUES RENAULT works his magic first with ELOISE LAWS '77 classic "LOVE GOES DEEPER THAN THAT" & then with MELBA MOORE's "LET'S GO BACK TO LOVIN". (TAKE AWAY)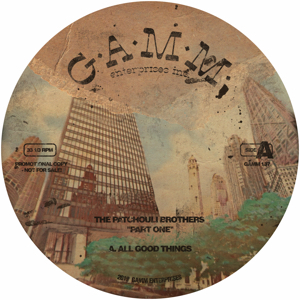 Patchouli Bros/PART ONE 12"
$15.00
Groove Dis Exclusive. The 1st of 2 parts, a pair of disco edits on each volume. Heavily in demand for their edits and reworks, first up is the peak hour looped up disco nugget "ALL GOOD THINGS". The more organic feel good disco of "REACH OUT A HAND" graces the flip. (GAMM)